LOOK!

I've been tagged!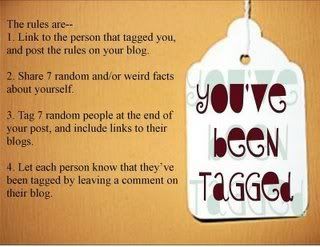 Who: SARAH

7 Weird Facts: (where to begin)
-I met and married my husband of 11 yrs all within a month
-There is 7 yrs between my kiddos
-I love sub sandwiches (could live off them)
-I have only sisters and we are the only granddaughters(3 of us)
-My covers have to be exactly straight to sleep
-I am a perfectionist
-I am a reality TV junkie!

7 Random People: OK
-Bobbie
-Karen
-Jennifer
-Christina

ok that is all for now! Ive gotta run!